Alfalfa seeds, wholesale prices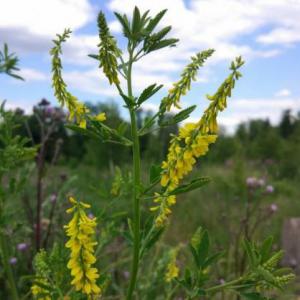 Crescent alfalfa (Yellow alfalfa) good honey plant. The greatest amount of sugar in the nectar of crescent alfalfa is released at 1 pm and 4 pm at an air temperature of 26 - 30 ° C and a relative humidity of 51 - 59%. The composition of the nectar changes significantly during the day, for example, the glucose content decreases sharply by 2 pm and 5 pm, so bees are not so willing or not at all willing to pollinate the flowers of crescent alfalfa at this time. It was noted that the sugar content in the nectar rises after the first cut (June) of alfalfa; after the second cut (July), bees are especially active in collecting nectar from sickle alfalfa and pollinating it.
Honey bees, pollinating alfalfa crops, open every 42nd flower, and wild - — every second. Honey bees mainly collect nectar and about 15% of pollen, while wild bees — mainly pollen and open the flower after the first visit, while the melliferous ones after 2 — 5 visits — depending on the variety.
Honey productivity of yellow alfalfa (crescent alfalfa) — 25-300 kg / ha in the central regions.
Alfalfa honey has various shades — from colorless to amber, during crystallization it becomes white and thick creamy consistency. Has a pleasant aroma reminiscent of the smell of mint and a specific aftertaste. At relatively high temperatures, it hardly crystallizes.
Alfalfa: planting and cultivation features
Alfalfa is grown all over the world for its beneficial properties. The culture is a complete feed for livestock animals, it is a honey plant, and the root system saturates the soil with nitrogen.
Observing simple recommendations, it will not be difficult to grow alfalfa on a personal plot. The sale of alfalfa seeds in the store is represented by a wide range of wholesale. Alfalfa seed prices are available upon request. In the site catalog, you can select and buy alfalfa flower seeds with delivery of goods to the specified address.
Overview of cultural features
Lucerne – it is a perennial fodder of the legume family, it can grow in one place for up to five years, and give a bountiful harvest. The grass is excellent for fodder for livestock, fragrant flowers attract bees, and a root up to 10 meters long saturates the soil with nitrogen, thereby increasing its fertility, improving air exchange.
The plant is also used in pharmacology. It is part of the drugs:
· lowering cholesterol and blood glucose;
· restoring the work of the gastrointestinal tract.
When is the crop sown?
Plant a plant, both in spring and summer. If it is necessary to prepare hay for the winter, alfalfa seeds are sown in early spring. If it is necessary to saturate the soil, then in the middle or late summer, they harvest and sow grass.
Sowing in early spring provides a dense green mass, a comfortable temperature at the end of summer and long daylight hours ensure rapid growth of the culture, full-fledged formation of the root system.
What plants are alfalfa combined with
Alfalfa is sown both independently and with other forage grasses, for example, clover, timothy. A good harvest is obtained when grown together with oats.
You also need to consider what plants grew on the ground before. Alfalfa, like other plants, is susceptible to predecessors, following the recommendations, you can get a high yield of grass.
The most suitable predecessors are:
· corn;
· spring crops;
· legumes;
· winter cereals;
· fodder beet.
After planting alfalfa, the most favorable growing conditions are created:
· oats;
· wheat;
· legumes;
· corn.
Planting features
Seed preparation
To get good, simultaneous germination, you need good planting material and seed pre-treatment. If you do not know where to buy alfalfa seeds in Russia (including the cities of Moscow, St. Petersburg, Yekaterinburg, Ufa, Kazan), visit our website. The store offers a wide range of forage crops and ornamental plants.
You can buy Medicago sativa flower seeds in Russia from us, a convenient catalog allows you to find everything you need.
Seed pretreatment is necessary due to the dense outer shell. Experts advise:
· pour the seeds into a container, add sand;
· rub the contents well with your hands;
· fill the seeds with water for 24 hours;
· then drain the water using gauze.
Because of this, the outer shell becomes thinner, the sprouts will sprout faster.
Soil preparation
· Before sowing, the soil must be dug up shallowly by hand or with a cultivator.
· Remove (if necessary) weed stems.
· Apply mineral or organic fertilizer.
In order for the seedlings to be dense, it is required to calculate the required volume of seeds. On average, experts advise using at least 1.2-1.4 kg per hundred square meters of land. Planting is performed in rows at a distance of 40-50 cm. After sowing, if the weather is hot, irrigation with water is required.
Growing Care
Plant care is not time consuming. By following the standard care rules, everyone will be able to get a high yield.
· When the seedlings reach a height of 15 cm, the first watering must be carried out. It should be sufficient without moisture stagnation on the surface. The second watering is done after the buds appear. Third – after mowing.
· Mineral or organic fertilizers are applied once a month.
· As soon as they appear, weeds should be removed by weeding the aisles.
Alfalfa is mowed during the budding and flowering period. During this period, the herb contains the maximum amount of nutrients.
We recommend that you look at the most popular sections of the site: Phacelia seeds , Seeds of honey plants in bulk , Yellow sweet clover seeds .
GBLand-group
Address: 422219, Republic of Tatarstan, Agryz district, Pelemesh village, st. Molodejnaya 2
Schedule: Mon-Fri 09:00 - 18:00